By Mark Winfield.
Policy Options. May 23, 2018
With the announcement in late April by Ontario Progressive Conservative Leader Doug Ford of his plan to reduce hydro rates, electricity costs have emerged as a central question in the upcoming Ontario election. However, Ford's less-than-one-page solution has the potential to make the situation worse than ever. An effective long-term strategy for reducing electricity costs requires some deeper reflection, including the recognition of some unwelcome truths.
---
By Mark Winfield.
Policy Options. April 18, 2018
Since early April, the concerns over the fate of the expansion of Kinder Morgan's Trans Mountain pipeline in the face of the British Columbia government's objections have been elevated to the level of a constitutional and political crisis, driven by an artificial deadline set by the pipeline's Houston-based owner. The hyperbole about how the fate of this single project ...
---
By Mark Winfield.
Policy Options. Jan 10, 2018
Newfoundland and Labrador Premier Dwight Ball announced in late November a public inquiry into how the economically disastrous Muskrat Falls hydroelectric project was approved. In reality, there is little mystery. The project was strongly supported by the governments of former premiers Danny Williams and Kathy Dunderdale. A very limited economic review was permitted by the province's Public Utilities Board ...
---
The Sustainable Energy Initiative & MES/JD Program Present:
The Fe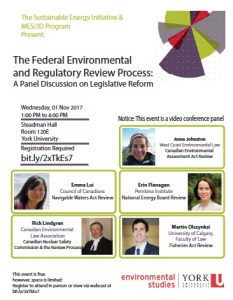 deral Environmental and Regulatory Review Process: A Panel Discussion on Legislative Reform
Wednesday, 01 Nov 2017 1:00 PM to 4:00 PM
---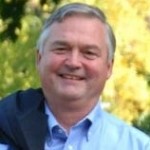 Peter Love, Adjunct Professor with York University's Faculty of Environmental Studies & The Sustainable Energy Initiative is honoured with the Clean 50 2014 award!
A "lifer" when it comes to electrifying the push to greater energy efficiency and leading advocate for a culture of conservation, Peter Love of the Energy Services Association of Canada and Adjunct Professor at York's Faculty of Environmental Studies played a key role in convincing the Ontario government to increase the minimum energy efficiency standards in the province's building code. The new code came into effect in 2012 and is among the most stringent in North America and is expected to result in electricity savings of about 500 MW by 2014. This has resulted in hundreds of millions of dollars in additional sales of insulation and other clean tech energy efficiency products. Peter serves on handful of clean tech and NGO boards and is a volunteer Advisor with the Cleantech Practice at Mars.
Link to Clean 50 story

"Given the lack of energy planning courses in Ontario universities and the rapid advancement of energy planning in practice, it is important for students in this field to supplement coursework with applied projects."
Link to full story
By David MacMillan, MES Candidate
---